The first tacos I ever ate in my life were prepared by my mother using a pound of ground beef and a package of McCormick's taco seasoning mix. These were served on crispy taco shells with refried beans, lettuce, cheese, and diced tomato. A jar of mild Pace picante sauce was available for the daring! Taco Bell will sell you an inferior version of this right now for around, as I recall, sixty cents.
Now, I'm still a fan of this style of taco. I mean, not only did I grow up eating them, they're also objectively delicious. I make this style of taco a few times a year when I'm feeling particularly lazy, but when I'm really in the mood to exert myself, I'll whip up some tacos
al pastor
.
To hear
Wikipedia tell it
,
al pastor
tacos were invented in Mexico City and were derived from the
shawarma
brought over by Lebanese immigrants. Like
shawarma
, proper
al pastor
tacos are cooked on a vertical rotisserie or
trompo
, but unfortunately I don't own one so please bear with me if I take some liberties.
To turn a 2.5 pound Boston butt roast into delicious
al pastor
tacos, I start with about ten or fifteen
guajillo
chiles, which you should be able to get at most Houston area supermarkets. I remove the seeds from them, chop them up, and simmer them in about a cup and a half of water and a tablespoon of vinegar. After about ten or twenty minutes (I'm horrible with time) they will absorb most of the liquid and plump up nicely: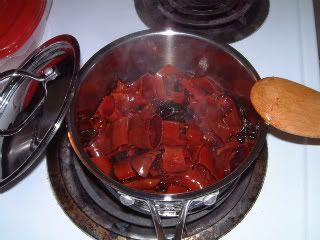 The next step is to toss in some garlic, salt, and pepper and then whack it with a stick blender to make a thick marinade: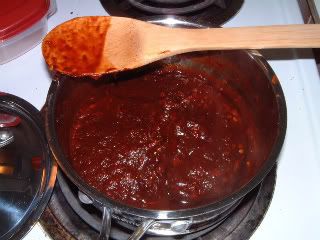 The marinade is then mixed with the pork, which is diced into ~.5 inch chunks:
Afterwards, you can let it sit overnight or however long you want to, but according to the good folks at America's Test Kitchen, marinating doesn't actually work very well, so if you're really hungry go ahead and throw some of the sauced-up pork in a hot pan and toss in some pineapple chunks and about 2 tablespoons or so of pineapple juice and cook through:
When the pineapple juice has pretty much cooked down to nothing, transfer the meat and pineapple chunks to a tortilla and top with cheese. I suggest
queso fresco
. Place the taco on a cookie sheet or pie tin or what-have-you and broil it until the cheese is melty. Next, garnish with cilantro, onion, and tomatillo salsa. Serve with lime wedges on the side and enjoy!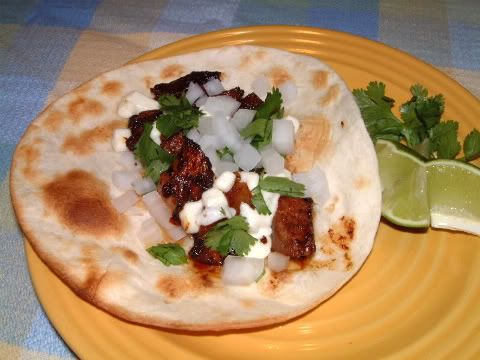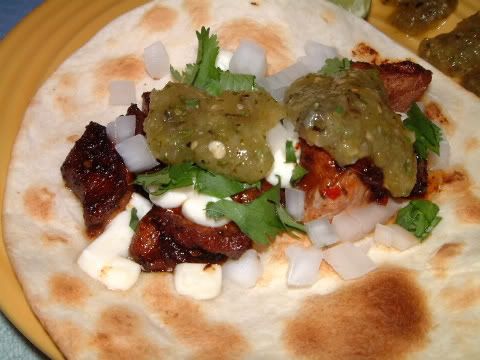 Here's the formal recipe. Please note that I hardly ever work from recipes when I'm cooking so if the measurements are a little off I'm sorry. I'll take careful notes the next time I prepare this and update the post if necessary, but if you're not completely clueless in the kitchen you should be able to pull these off even if I'm a little low or high on the amount of water to use, etc.
Tacos al Pastor
2.5 lbs Boston butt pork roast, cut into little chunks
10-15 guajillo chiles, de-seeded and rough chopped
1.5 c. water
1 tbsp. white vinegar
6 cloves garlic, minced
salt
pepper
corn or flour tortillas
cilantro, chopped
white onion, fine dice
limes, cut into wedges
1 can (18 oz?) pineapple chunks in juice
cheese (
queso fresco
or your choice)
your favorite salsa
Place the chiles in a sauce pan with the water and vinegar. Cover and simmer for 10-20 minutes, until the liquid is absorbed. Add the garlic and blend with a stick blender to form a thick marinade/sauce. Combine the meat and marinade and mix well so that the meat is covered evenly and allow to refrigerate overnight*.
To prepare, place 1 cup of meat/sauce mixture in a saute pan and add 1/4 cup of pineapple chunks and 2 tablespoons of pineapple juice. Saute until pork is cooked through and pineapple juice is reduced and thickened well.
Transfer the meat and pineapple mixture to tortillas and top with cheese. Broil until cheese is melted, then top with cilantro, onion, and salsa. Serve with lime wedges on the side, one wedge per taco.
* This step is optional.