We've already established that, despite it's name, this blog is not
solely
dedicated to the production and consumption of tacos and pictures of other things I cook. It is also about bringing attention to other sorts of eateries, especially those located on the NW side of town.
Now, admittedly, this is probably not the optimal part of town for a foodie to live in, especially if they hate driving as much as I do, but that doesn't mean there isn't plenty of good food to be had if one's willing to look and, occasionally, compromise.
When one gets a hankering for a
banh
m
i, the delectable Vietnamese version of the hoagie is, so far as I'm aware, only available locally at
Pho Binh
(address below). Unfortunately, they have precisely two options available: pork and chicken. Worst of all, there's no pate spread and no obvious sign of that magical mayonnaise I've gotten elsewhere.
Having said that, the pork
banh
mi
I picked up this afternoon really satisfied my cravings. The french roll it was served on was still satisfactorily crunchy even at the ass end of the lunch hour, and the pork was perfectly charred. They normally serve cucumber on their sandwiches, but don't freak out if you don't see any cukes in the pics below; their absence was intentional because I hate cucumbers.
Pho Binh
has also serves
bun
and
pho
, and I'll get around to reviewing their
pho
right around the first big cold snap.
Pho Binh
's dining room is serviceable. It was really dead on this visit, with only one other patron waiting on a to-go order. It was 2:30 in the afternoon, which probably had something to do with it.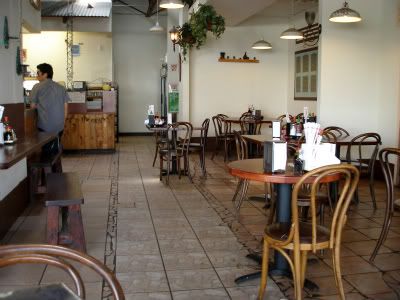 They have this neat cycle rickshaw tucked away in a corner:
The neatest thing about
Pho Binh
is that for a little over four dollars, they'll stuff one of these in your face:
Pho Binh
's exterior is also serviceable.
If you're on the North West side of town and absolutely, positively have to have a
banh
mi
as soon as possible, give
Pho Binh
a try. (Or, better yet tell me about an even better
banh
mi
hookup in the area!)
Pho Binh
2021 Mangum Rd
Houston, TX 77092-8529
(713) 686-6408
www.phobinh.com
View Larger Map